Joined

Jun 28, 2022
Posts

34
Reaction score

13
Points

8
Website
I've been working on this track on and off for quire a while now, But recently, I decided to try to make a 3DO for the track without using any 3DS Max version, or 3D SimEd. This track is 4 miles in length and has a maximum cornering speed of about 270 mph, which is much faster than the cars can actually go (at least with realistic weather). Here's the overhead view of the track so far (some details were lost due to a relatively recent hard drive crash).
For the 3DOs without using 3DS Max, here's what I came up with: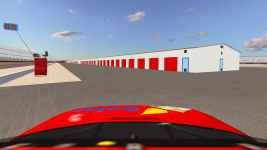 I have replaced the garage models with a much less detailed version in terms of polygon count. Using gmax and a modified max2msh script (used to export models to Orbiter, which recently went open source), I created a msh file that, if converted to 3DO, will appear just as you see in the above image. I created a tool to then convert the msh file I had created into a 3DO file, then used make3do with a PSG script to add a state switch so that the object does not appear when the Minimum Trackside Objects option is selected.